We want to give you a better look at the development of Moona!
You'll find below some of our latest news. Those updates were only sent to our backers (
Kickstarter
,
Indiegogo
) until now. You can find some previous editions
here
.
We are in the process of manufacturing the Engineering Validation Test (EVT) prototypes. We will run a lot of tests on those over the next two weeks. 
We focus here on our app and the team. You'll find hardware and factory pictures as well, we couldn't resist!
Funding 
We closed our seed round with international investors a few weeks ago. 
This will help us go faster and think long-term.
Team
Thanks to this additional investment, we've been able to strengthen the team again!
Please welcome Laurent, a firmware engineer, Baptiste, who will intern with us this summer to work on graphic design, and Nicolas, who will lead marketing.
Edgar has been back with us (for a few months now) to further develop our mobile app after finishing his studies.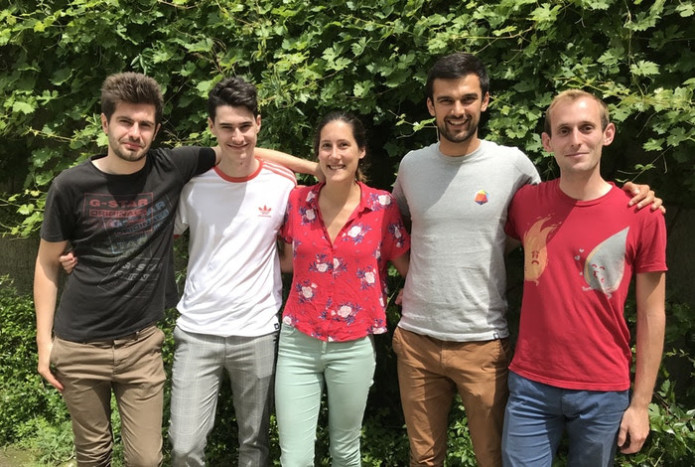 Edgar, Baptiste, Coline, Nicolas and Laurent
We moved! Still at Agoranov, our incubator in the middle of Paris, but we now have our dedicated office on the second floor: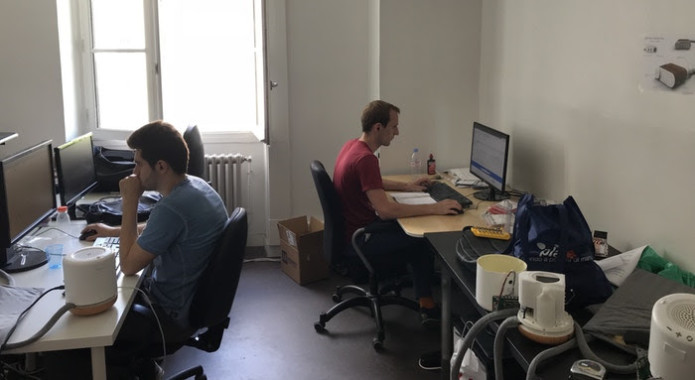 Edgar and Laurent hard at work
The Moona App
It currently has two main functions: controlling the device and giving you key insights on your sleep.
You'll be able to set up the alarm clock, control the temperatures you want during the night or activate your Moona for a refreshing nap.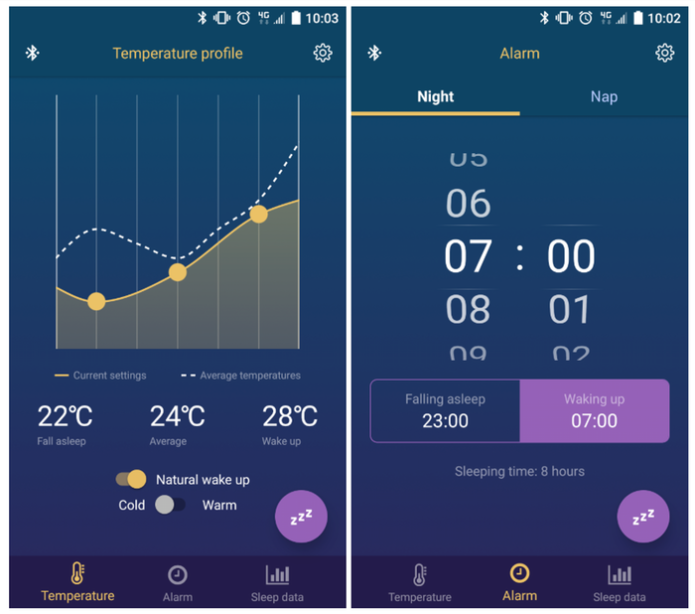 Thanks to our motion sensor at the edge of the pad, we can analyse the length and quality of your sleep.
The product has two additional sensors within the bedside device to measure your sleeping environment. One measures ambient temperature plus humidity and the other measures light. Those factors play a huge role on sleep.
We know sleep is very personal. There's no silver bullet or secret recipes working for everyone. Giving personalized sleep tips is indispensable and collecting this data is what makes it possible for us.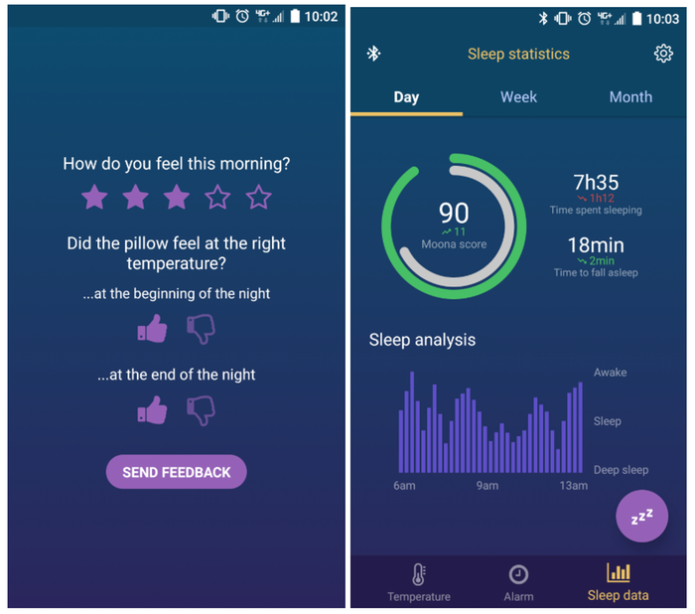 We're still tweaking the app UI/UX to make it even more simple
If you have any comment or question on the app or UX, we would be happy to hear them !
Product
In addition to mechanical optimisations, we are doing a lot of life tests where we put each component in extreme situations to make sure they hold up over time. 
We've been twisting tubes and parts, stress testing our pump (heat, water lift, making it run in all types of waters and liquids…), key components, our pillow pad etc.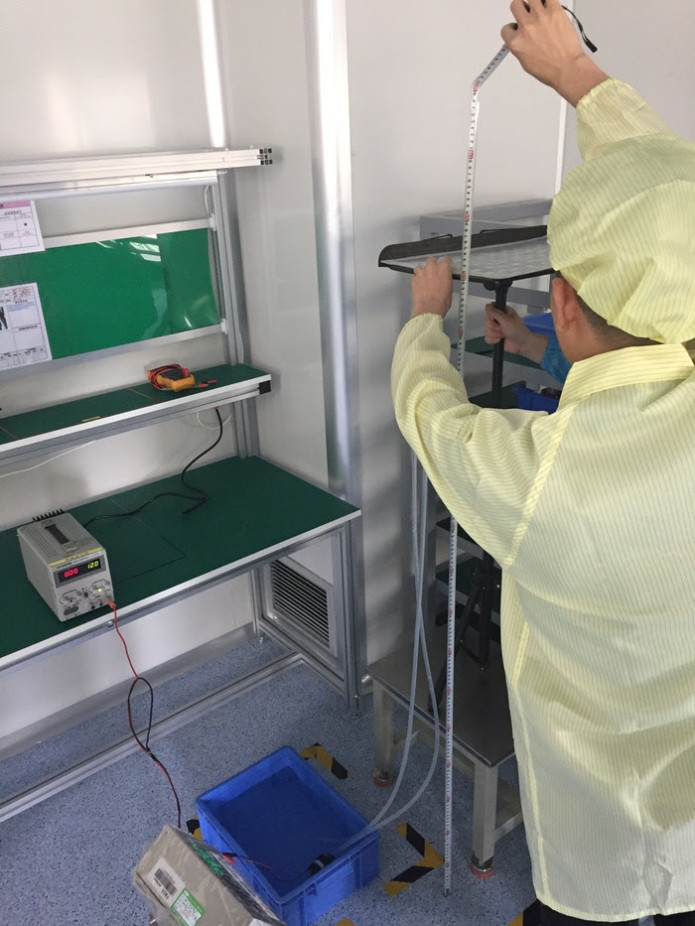 testing the pump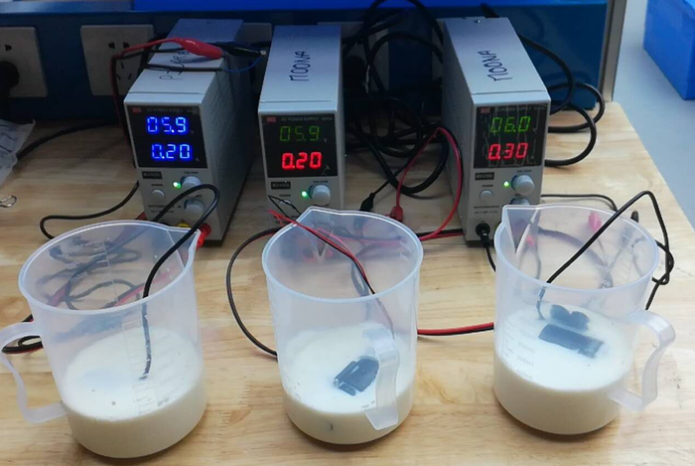 We run the life tests with different liquids. Here, milk.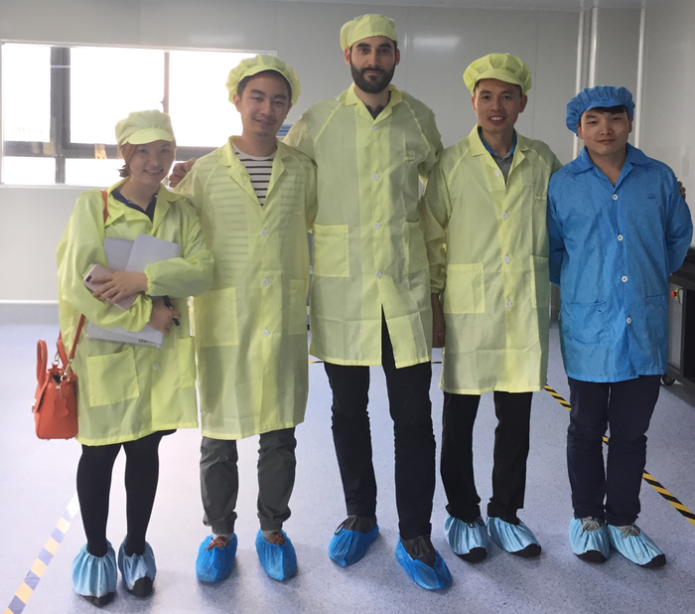 Dhylane (middle left) and David (middle) with the pump factory team
.....
Vivatech 
Very happy to meet some of you at the event two weeks ago! It was hard to compete for attention with the presence of Emmanuel Macron, Mark Zuckerberg and all the great speakers but our booth was constantly busy :)
We still managed to get a few breaks for pictures: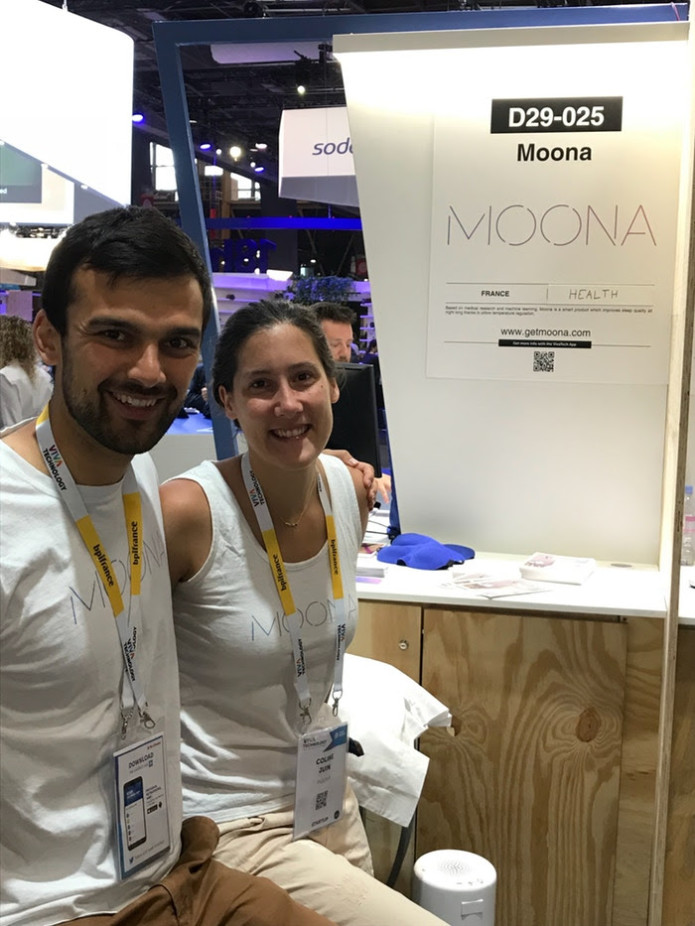 Nicolas and Coline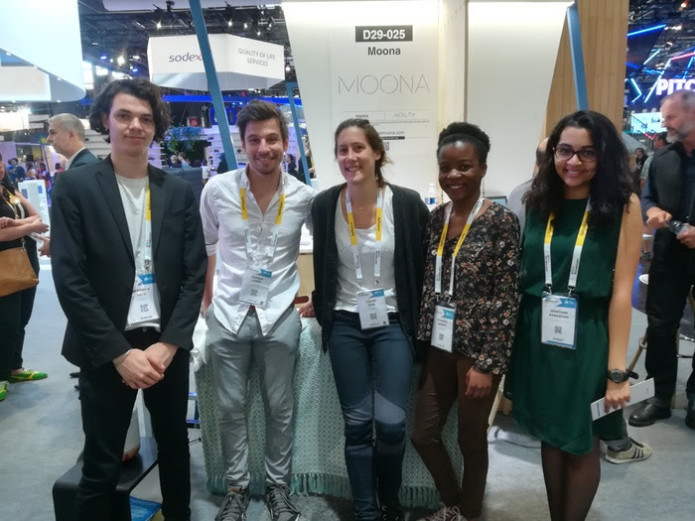 Coline (middle) with students helping us on Saturday, the day open to the public.
What's next on hardware?
Testing on EVT prototypes (hardware and electronics) 
 Design Validation Test and mold production 
 Quality Control processes Certifications
 --- 
We're finalizing our branding strategy, if you have any great idea, please share!  
For example, we're working on a brand mascot. What do you think it should be?
---
What do you want to hear from us?
Feel free to reach out anytime using Facebook, Twitter or email (hello@getmoona.com)